Hack for Change Louisville is being held as the city's formal National Day of Civic Hacking event. The day will bring together local government leaders and staff, local organizations, businesses, visitors, and community members and is focused on civic innovation.
Success!
The event was a huge success!  Thanks for everyone who participated including Greg Fischer, Louisville Metro's Mayor.
We had 30 people sign up and over 40 attend.  Louisville Innovation Director Ted Smith was out of town but helped with social media stories.  We were part of 95 cities and 10,000+ participants across the nation.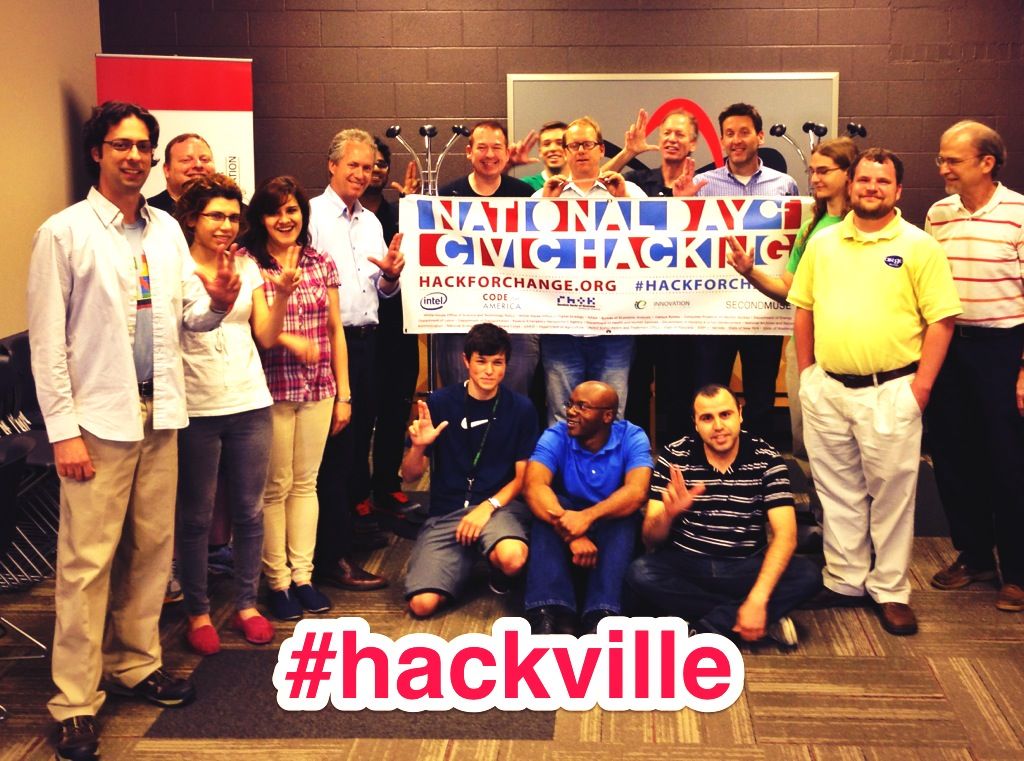 After brainstorming 9 ideas, we voted and decided to focus on 5 for the day.  People self-organized into 5 groups based on interest, and some people jumped between multiple groups.  I made the rounds to each group helping out as I could with API advice, Google Maps coding, Open Street Map editing discussions, suggestions for features, data wrangling, and helping discover the best tools for a job.
The teams decided to continue working through our copious lunch, and by 3:30 it was pitch time.  Teams presented what they had completed, hurdles they had, and what the next steps were.  I followed along and documented each project's progress in our application gallery.
Roadblocks included:
Council District Spending – Project stalled when team discovered official expenditure data was redundant, obtuse, and not as granular as the non-exportable LouieStat data.  Tried to source data from Courier-Journal, but it was 2 years out of date and not exportable anyway.  Team is drafting a letter of recommendations for open data team and revenue department.
Parks and Rec – The team was going to use the Park Locations and Amenities open data set, but found it lacking. Every amenity listed in a park is geolocated to the same point. So there is no way of knowing where the amenity is in the park. Also, paths and roads are not up to data in online mapping systems (Google, Open Street Map). The team will have to do this manually, which is time consuming and prone to error since they are not the data experts. The team recommends that Metro Parks updates its data set to place the amenities accurately with latitude and longitude, and use Google and Open Street Map editors to improve park details for everyone.
BriGenie – Bridges Project site does not have public feedback, daily/weekly/monthly updates and progress breakdown by category.  So the problem is lack of detailed data. Without the details being released by the project weekly in a machine readable format, the only alternative is citizen journalism approach which is cumbersome, a large time commitment, and prone to delays.
Success Included:
BehRest – Great use of open crime, restaurant data from the city, and the team will continue to work on the app.
Parks and Rec – Team will be manually locating all park amenities and editing them into Open Street Map to use through OSM routing API. They will continue to work on the project.
Lost Pet Finder – Team had a working version, and is going to continue with the app and widget.  They will need help from Metro Animal Services to understand some of the raw data.
The other projects will continue if can they overcome their open data hurdles.
Interesting Links
– People wanted the mayor to create a Louisville open data law/policy that made all public data open by default, rather than selectively.  Vote for that idea here.  A few other US cities and states have started doing this.
– Individuals looked at editing details in their neighborhood in the new Open Street Map iD editor.
– It would be nice to have an open data GIS portal at Lojic (like Lexington has) so people could add parcel outlines, property values, building outlines, utilites, etc to Open Street Map.
Gallery
We've got the 5 projects up in a Challenge Post gallery!  Take a look and comment and vote on them until this Thursday.
> VIEW GALLERY <
Hack for Change
Here's what to expect:
Software development (a hackathon event) using the city's open data.
Collaborative building of open data apps and services.
Discussions on open data the city, county, and state should release.
The initiative is a united effort to connect citizens and government in a partnership focused on improving people's daily lives through technology. This event will bring together techies, entrepreneurs, do-gooders, activists and others like you from across the nation to collaboratively create, build, and invent tools using publicly-released data.
Together across America, these events will provide citizens with an opportunity to do what is most quintessentially American: roll up our sleeves, get involved and work together to improve our neighborhoods, our lives and our government.
Civic hacking as a form of citizen engagement and volunteerism is gaining momentum reaching cities across America not those known for technology and innovation. Civic hackers are already active and contributing to the betterment of your community.
Originally the event was going to be competitive, like Code for America's recent Hack-a-thon.  But the spirit of this event is collaboration, cooperation, and learning.  So there will be no prizes, just awesome ideas and apps that we create during and after the event!
The Story
The White House's Code for America fellows came to Louisville and hosted a Hack-a-Thon in February.  The YourMapper team won first place for its public safety app SafetyCheck which uses crime reports from the city's open data portal.
Now Michael Schnuerle from that team is organizing the Louisville chapter of the National Day of Civic Hacking event, as a way to get more local developers involved in local civic volunteerism.
This event will be community building, and raise awareness for what can be done by developers to help citizens solve problems using open data.
Lexington, KY is also hosting an event, using Lexington's open data portal, making the effort a state-wide collaboration.
Get $100 in free Amazon AWS Cloud services!
Sign up now and participate to get your credit the day of the event.
Examples
Here are some examples of apps built of public open data.
Goals
Hack for Change Louisville has these main goals:
Create a one-day environment for entrepreneurs, app developers, and programmers to create innovative apps and websites using open public data.
Identify opportunities to brainstorm, capture, design, and even deploy valuable software applications that serve the city.
Bring together local government officials, municipal employees, experts, programmers, designers, citizens and journalists to share thoughts on the City of Louisville's open data portal.
Foster communities of practice and advocacy on the role of the civic innovation, mobile communication, online information, and open data at the City of Louisville.
Discover other datasets that contain public information a the city, county, and state level that should be made public (property, transit, GIS, etc).
Create outcomes that participants will act upon after the event is over.
The event is currently sponsored and organized by YourMapper, which provides mapping local open data solutions and an open data API for your apps.  We are looking for other volunteers and sponsors now.
Sign Up
Sign up now at our Eventbrite page.  Space is limited!
Schedule
The event will be at Louisville's iHub co-working space.
8am – Doors open, mingling, coffee, breakfast, setup
9am – Introductions and overview
9:30 – Data, project/app ideas
10 – Break into self-organized groups to work on ideas
12 – Lunch on site
1 – Continue working on ideas, finish prototype
3:30 – Present prototypes
4:30 – Next steps, mailing lists/groups, wrap-up
5 – Civic Hacking end, head off to dinner and drinks with your new friends
6 – Everything cleaned up (help if you can) and venue closed
Things to Do at the Event
Submit Projects to Hack for Change
Submit Ideas/Projects to our Gallery
Tweets to: #hackforchange @civichackingday #hackville @yourmapper
What to Bring
Your laptop, power cables, software, smart phones, chargers, monitors, mice, ideas, and half finished projects.
How to Prepare
Familiarize yourself with at these data sources to see what's out there:
The event is meant to be a technical programming, app building, hacking experience.  We will be working together to build actual apps during the event.
If you are non-technical, we still need your help.  During the event entrepreneurs  business, marketing, and regular citizens can help steer the direction of the development and explore great ideas with the techies, and work on the presentation and communitating the idea clearly.  You can also spend some time updating your neighborhood's Open Street Map data using the new iD online editing tool.
Official Louisville Twitter tag: #hackville
Monetary Sponsors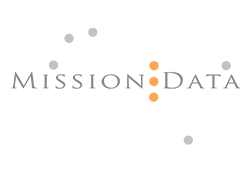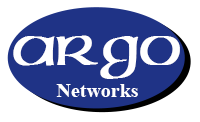 Food and Drink Sponsors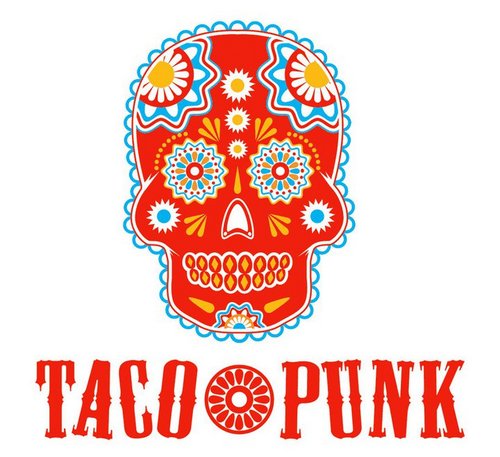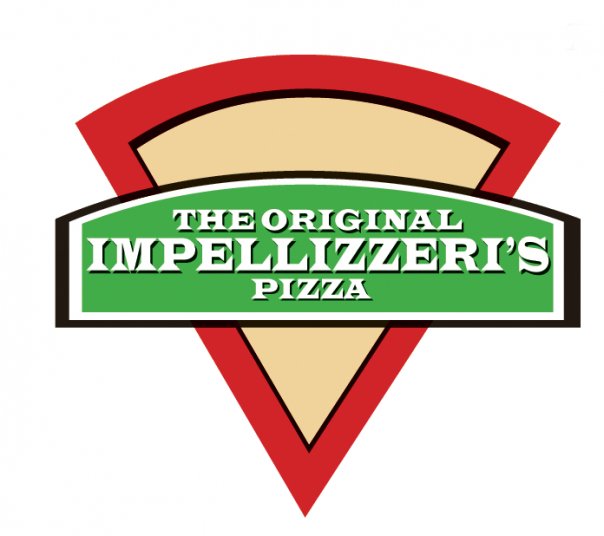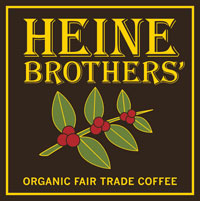 In-Kind Sponsors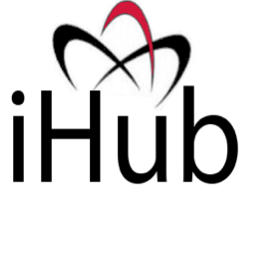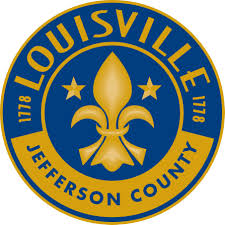 Volunteers
Michael Schnuerle (organizer) – YourMapper
Kelby Price (venue) – Piyvt
Patrick Smith (food) – Map Grapher
Dannie Gregoire (media) – Digital Louisville
Media Coverage
Insider Louisville (part 2) (part 3 recap)
WFPL (NPR)